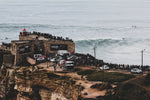 A few days ago, we went to check the famous place where the biggest waves in the world break. A small town an hour north from Lisboa called Nazaré.
The waves break in front of the cliff and can get as high as 120 feet or even more.
Why so big? Because there is an underwater canyon that creates a constructive interference between the incoming swell waves, and it makes their heights much larger on this stretch of coast.
Seeing those waves it's a lifetime experience.