BRAND NEW INSULATED BOTTLES
PERFECT SIZE, BETTER INSULATION AND BULLET-PROOF.
We present you the new generation of Pantai Insulated Bottles in two diferent sizes: 1 and 2L.
BUY NOW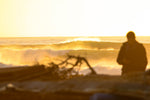 Before Christmas, we decided to embrace on a trip, to try out our new products. And we also wanted to chase the big swells that were hitting...
Hundreds of thousands of plastics hit the coast of Barcelona in the middle of summer. Check the photos and share them to raise awareness.
The world needs a change
And the change starts from you.