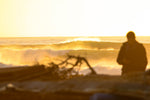 Before Christmas, we decided to embrace on a trip, to try out our new products. And we also wanted to chase the big swells that were hitting the coast of Europe. But instead of going north, we went to the warmer moroccan coast.
Once on the plane, all of us had water from the fountains of the airport. With this we avoided paying the expensive water bottles of the airport and plane, but most importantly the PLASTIC. We even managed to get some ice in the Tumbler and when we arrived to Morocco (4 hours later), there was still ice!
We drove to the coast and went to sleep to go surfing early the next morning.
The waves were firing the whole day and it was like this for ten days. More than 2,5 meters everyday, minimum 14 seconds, and super light winds.
To our surprise, it was way colder than other years during this season, thankfully we had the delicious moroccan mint tea to warm up. Thanks to our insulated flasks, we had HOT tea ready to sip every time we got out of the water. 
The surf was good and solid, so we stayed around for lunch almost everyday. Although sometimes there weren't any restaurants around, we didn't need to use any single use plastic because we had our lunchbox to put the delicious moroccan street food and bamboo cutlery set to enjoy. 
Good friends, epic waves and no single use plastic used. Definitely, a trip to remember!